I love to read books by music critics and fans. My all-time favorite book is "High Fidelity" by Nick Hornby (the John Cusack film is also one of my favorite movies). I have read it more times than I can count. The copy of "HF" that I own is a wreck- pages are falling out, lines are underlined, and there is some slight water damage. I love it.
Below is a list of other books by music critics/fans that I love and recommend.
"Songbook" by Nick Hornby
This collection of essays about Nick Hornby's 31 favorite songs is essential reading. He writes so well about the songs he loves, which range from Ben Folds Five to Rufus Wainwright to Teenage Fanclub. I think that I especially love this because many of the songs he counts as his favorites (Badly Drawn Boy's "A Minor Incident," Bruce Springsteen's "Thunder Road") are my favorites as well.
"Love is a Mix Tape" by Rob Sheffield
This heartfelt little memoir about Sheffield (who used to write a column for Rolling Stone and now writes for Blender, I believe) and the death of is fiance, Renee, is both a love story and a reflection on how music has shaped his life. Every chapter includes the track list of a mix tape he listened to during that time.
"Perfect From Now On: How Indie Rock Saved My Life" by John Sellers
One part music-based memoir, two-parts Guided By Voices love letter, John Sellers's reflection on the music that meant most to him (including 80's hair metal, U2, straight-up pop, and lots of GBV) is a witty look at how the songs you hear can change who you are. At times, the pages-long footnotes were irritating, but overall this is a really enjoyable book.
"Killing Yourself To Live: 85% of a True Story" by Chuck Klosterman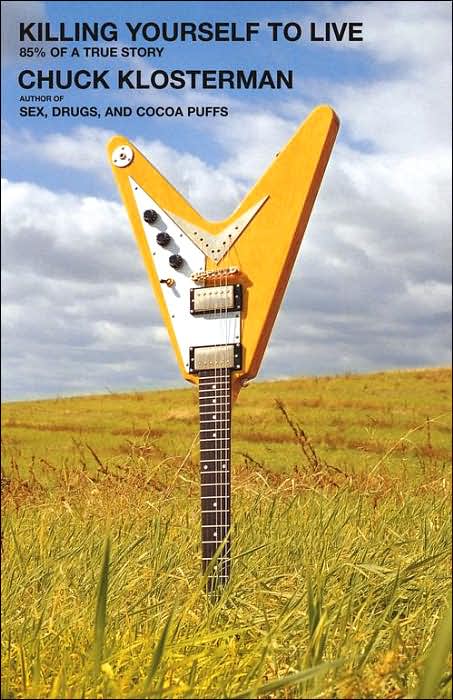 As the title suggests, it's tough to tell which parts of this memoir are fact and which are fiction. Initially, Klosterman sets out to write about dead rock stars, but then the book veers into a look at his past and present girlfriends. Sometimes Klosterman's writing got to be too narcissistic but overall I enjoyed it.
"The Show I'll Never Forget" by Various Authors
In this essay collection, 50 writers reflect on their most memorable concert experiences. The essays are alternately hilarious, thought-provoking, and just plain weird.
"I Like Food, Food Tastes Good" by Kara Zuaro
My sister got me this cookbook for Christmas. Every recipe is written by bands like Yo La Tengo, Smoosh, Ben Kweller, and the Hold Steady (there are TONS more). Most of the recipes seem disgusting, but it's funny just to read the stories about food.